I have to hand it to Sony.
For the past month or so, Sony has funded these 'Vita Hill Social Club' locations in various big cities around the country.  If you wander into one of these locations, you are greeted with staff who enter you in to a store raffle of sorts, set you up with a Vita to play with and cater you with drinks and food, all of which are on the house.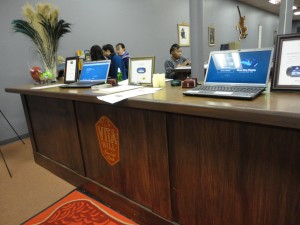 After you select a game that you would like to play, one of the staff members will walk you to a location with comfortable seating and fasten the Vita to a stylish mount via a steel cable.  Once you are settled in, you are free to play (and change the game, via request) for as long as you like, as long as it isn't too busy.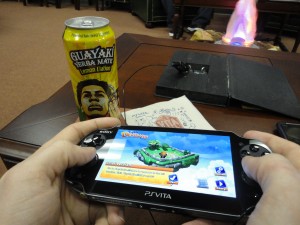 They also show you a menu that offers you complimentary drinks and snack bars. The location that I frequent in Cambridge, MA offers three flavours of  Guayaki Organic Yerba Mate, Vita Coco (hurr hurr) and a handful of Kind Bars to choose from. I believe it does vary location to location, but free snacks are always an okay in my book.
The atmosphere is set as a very laid back comfort zone. They designed this place so you can chill. Aside from the Vita systems, the spot also offers several Playstation 3D TV units complete with Playstation 3 consoles and 3D glasses, a photobooth, a magazine rack and plenty of areas of free seating. I am not sure who set the playlist, but the soundtrack was rather enjoyable with a lot of the more unknown indie artists being played, albeit playing from a MacBook (tsk, tsk).
Every Saturday, the store hosts various events that offer some pretty nifty prizes (from my knowledge, PSN cards). Sega held a Virtua Tennis event a few weeks ago, and a Reality Fighters event just passed. They are holding these events until the end of the month, so it isn't too late to show up and try to win some swag. If you want to hold your own tournament with friends, simply request a time slot and the staff will work with you to have one set up.
These locations are amazingly fun and offer you a sneak peek at the Vita. If you are on the ropes about picking one up, this is a great way to experience the handheld for yourself to give you a more educated decision on a purchase. You can find a location in the following cities: San Francisco, Los Angeles, Miami, Atlanta, New York City, Boston, Chicago and Austin.